20 Most Promising Enterprise Architecture Solution Providers - 2016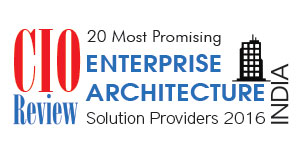 The traditional Enterprise Architecture (EA) portfolio was concentrated on the management of organizational IT assets. Today, enterprises are in demand to improve operational performance while retaining the flexibility to cope with dynamic business environment. Hence, the necessity is business outcome-driven architecture to collectively reinforce enterprise long term goals and objectives. In addition, as organizations are in demand of digital transformation, the pivotal role of EA becomes indispensible.
EA is optimized to manage and align organization's business processes, IT software and hardware, people, operations and projects with its overall strategy. EA offers benefits including more efficient business operation with lower costs, more shared capabilities, lower management costs, more flexible workforce, and improved business productivity etc. Nowadays, there are many IT vendors come to the fore with various EA solutions and services including Consulting, development, implementation and training etc. However, enterprises demand reinforcement of an IT partner who is well-versed technology realm and follows hands-on approach.
CIOReview perceives enterprises' hurdles in identifying best-of-breed partners who cater outstanding EA services. We present you a list of "20 Most Promising Enterprise Architecture Solution Providers". As the selection of right EA partner remains a herculean task for enterprises, we aim in aiding C-Level executives for spotting apt partner for your organization. A distinguished panel comprising of CEOs, CIOs, industry analysts and CIOReview editorial team have scrutinized various companies before finalizing these vendors who assist their clients to attain improved business growth, more effective IT operation, efficient management and exploitation of information while identifying cost savings and standardization opportunities.
We present to you CIOTechOutlook 20 Most Promising Enterprise Architecture Solution Providers - 2016.
| | |
| --- | --- |
| Agira Technologies | A provider of Enterprise Architecture solutions for entrepreneurs, medium sized organizations, agencies and start-ups. |
| Calligo Technologies | A provider of architect solutions for customer specific requirements. |
| Cognizant | A provider of various EA sevices like Enterprise Architecture Program Enablement, Architecture Blueprinting Service, Business and IT Strategy Alignment,Application Portfolio Rationalization etc |
| Front Metrics Technologies | A provider of services focused on consulting, implementation, enhancement, upgrade and post implementation support services of BMC Remedy ITSM / BSm. |
| Idealantis Technologies | A provider of architectural, technological and PLM services |
| IFS | A provider of services related to Enterprise resource planning, Enterprise asset management, Enterprise service and project management etc. |
| Inventec Systems | A provider of Enterprise Architecture Solutions for businesses to create and implement strategies for realising business value |
| Mindcrew Technologies | A provider of services related to mobile phones and web designing |
| Nineleaps | A provider of Enterprise Architecture solutions that are easier to build, scale, maintain, and monitor |
| Optinovo Business Consulting | A provider of Enterprise Architecture Solutions, Process Consulting Services, IT Program Management, Software Sourcing and Procurement Consulting |
| Orient Technologies | A provider of SI and premier solutions in IT |
| QLogy Management Services | A provider of various Enterprise Architecture services like tools selection, governance and auditing,strategy planning etc |
| Sopra Steria | A provider of EA services who supply services by accelarating the marketing of new and innovative offers,Promoting integration and anticipating the provision of new technologies: mobility,... |
| SourceEdge Software Technologies | A provider of enterprise services that cover ERP, CRM, SCM, BI etc |
| Sparx Systems | A provider of Enterprise Architecture services like Business Process Modelling, Systems Engineering, Requirements and Strategic Modelling, Unified Modelling Language |
| Sybrant Technologies | A provider of solutions by using UI engineering to enhance usability of product functionality with information architecture |
| TechMahindra | A provider of enterprise architecture services across various verticals like business process evaluation, optimization of IT assets etc. |
| WalSof Technologies | A provider of services like ERP/CRM implementation, Cloud based solutions, Software discovery projects, Application product development etc. |
| Wipro Digital | A provider of a variety of design solutions like brand design, innovation strategy, interaction design, product design, service design, user experience (UX) and user research |